Hello Prisoners,
This week, there is not much content update, but we really hope you will enjoy these Updates.
Quest is coming back:
Give us your opinions here: http://eternalcraft.com/prison-poll/
Automated Ore Party:
This month's Ore Party will be hosted at Saturday, May 16th 2015  3:00 AM and 3:00 PM ( for -5 GMT). Then next month's Ore Party will be Automatically hosted 30 days after that. This one will be a Trial Run, so expect some bugs and technical issues. But don't worry, an Admin+ will be observing and he/she will take action immediately if something go wrong

With this Automated Ore Party, you are no longer able to get suffocated in Ore Party mine. It will teleport you to the surface every time the blocks change, just like Normal Mines.
So.. Don't miss it!
New Weekly Trade:
This Week's Exclusive Item is: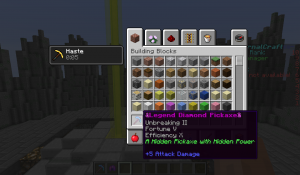 Legend Diamond Pickaxe
Obtain it by trading a Coupon with the Villager at Spawn. You can get the Coupon by opening Event Crates. It is only obtainable until 22/5/2015, so get it while you can. In the Event Crate, you can also get other items such as Money Coupons, Furious Pickaxe, Christmas 2014 Gun, and many others, even junk items 😮
Other Updates:
Brand New Combat Log Prefix. Get in combat and see it yourself!
Bug Fixes.
More Improvements that you can see in 1.8 clients.
Planned Updates (Still No Exact Date):
The Crackshot Update: Rank E Crackshots, new Potions, Crackshot Bug Fixes!
The Quest Update: We need your opinions here.
Prison 1.8: This one depends on the Vote Result. However, please understand that we do not want to rush the update. We will bring you the update once we are 100% ready, we will make sure to bring the best updates for all players, so please be patient
Have Fun! 😀